Quality

The product you're looking for
We will respond to the best quality and price.
Certificate
ISO 140001 : 2004 Date of Registration :
Nov 25th,2005

IATF 16949 : 2016 Date of Registration :
Sep.21th.2018

SQ MARK(HARDWARE Unit) Date of Registration :
Mar.21th.2013 HKMC SQ HARDWARE 'S' RANK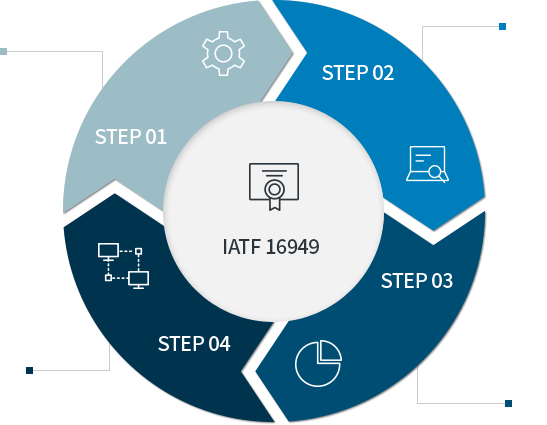 PLAN

- Understood Requirements of Quality Policy
- Understood all levels of organization and interaction
- Set up a general Policy standard
DO

- Provide Quality policy information Check
ACT

- Result of Monitoring/Measurement/Analyze Act
CHECK

- Continuous improvement and immediately takes action
Our company is based on IATF16949 Quality Certification and has adopted and implemented a methodology for continuous improvement for the purpose of preventing defects and reducing fluctuations and waste. 
Furthermore, through LPA(Layered process audit) and 6 sigma activity, we are on positive way to challenges zero defect and reduces costs.